Carnilove has been formulated with respect for the natural origins of dogs.
The wide spectrum of carefully selected wild-origin meats, such as reindeer, duck, pheasant, turkey, lamb, wild boar, salmon and FRESH MEAT new formulas such as Carp, Trout, Ostrich, Rabbit and Chicken, corresponds to the composition of natural prey and ensures intake of important amino acids
Forest fruits, vegetables, wild berries, and herbs are natural sources of important vitamins,antioxidants, and other essential nutrients.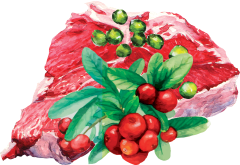 Grain-free * potato-free
Grains are a common ingredient in commercial dog foods, where they serve as a cheap filler and source of energy. They do not, however, form a natural part of the canine diet. Because dogs can't usethe excess energy contained in grains and potatoes, it is stored in the body as fat and leads to the onset of obesity and related illnesses, suchas diabetes.

Forest fruits, vegetables, herbs
Carnilove contains a natural composition of fruits and herbs rich in anti-oxidants, which support natural cell protection, boost the immune system,and prevent premature aging.

Salmon oil
Salmon oil is a natural part of the Carnilove formulas. It is a rich source of omega-3 unsaturated fatty acids, which support nervous and cardiovascular system health, contribute to quality skin and hair, and have a positive effect on many other bodily functions.
Chicory root, sea algae
Chicory root is a source of mannanoligosac-charides, which suppress the occurrenceof negative bacteria in the bowel and havea positive effect on the compositionof intestinal microflora. Sea algae area natural source of minerals, trace elements, and amino acids. They support propercellular immunity and stimulate the thyroidgland and metabolism.

Crustacean shells, cartilage extract
The shells of marine crustaceans and cartilage extract are natural sources of chondroprotectives, substancesthat have a positive effect on the conditionand mobility of the joints, tendons, and ligaments. Together w/ith other active substances, they guarantee long-term mobility and flexibility in the joints of all dogs, including those regularly subjectedto increased physical stress.

Brewer's yeast, psyllium, yucca schidigera
A combination of potent natural substances to support digestion, increase the usability of nutrients in the body, and provide necessaryinsoluble dietary fiber for a healthier digestive tract. Brewer's yeast also acts as a natural antiparasitic, while yucca has a positive effect on metabolism and reducesthe volume and odor of stools.

Wild-origin meats
It is very importantto ensure that dogs have the required daily intakeof quality proteins. The wide spectrum of carefully selected and unique sources of proteins in the Carnilove formulas, such as reindeer, duck, pheasant, turkey, lamb, wild boar, and salmon, respect the natural dietary choices of wild dogs.