Carnilove True Fresh TURKEY Puppy
Enriched with salmon oil, spirulina, and blueberries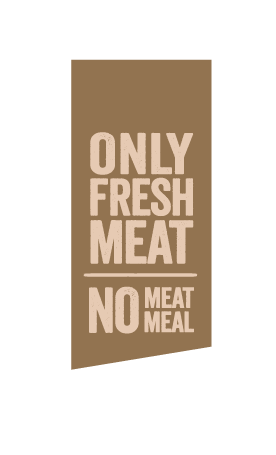 The formula contains a high proportion of fresh turkey from farms and local sources. The meat comes from animals approved for human consumption. Lemna and salmon oil provide essential omega-3 fatty acids which ensure proper development of vision and the central nervous system. Spirulina is rich in minerals and amino acids, which play an important role in metabolism and boost immunity, overall health and wellness. The added red lentil is an excellent source of minerals and fibre. Blueberries and rosemary provide necessary antioxidants which help build puppy immunity, support normal cell growth.
Made exclusively with Fresh Meat – NO Meat Meals
Natural form of nutrition with excellent taste and digestibility
Proper development of vision, brain and the central nervous system
Balanced immune system, improved digestion and gastrointestinal health
Where to buy
Composition
resh turkey (60%), peas, chickpeas, dried apples, chicken fat (preserved with tocopherols), red lentils (4%), pumpkin, salmon oil (2%), linseed (2%), natural flavors, hydrolyzed yeasts (Saccharomyces cerevisiae, 1%), montmorillonite (0.5%), Lemna protein (0.5%), dried pears(0.3%), dried sea buckthorn (0.2%), dried ginger root (0.1%), dried blueberries (0.1%), dried rosemary (0.1%), dried cranberries (0.1%), dried thyme (0.1%), glucosamine (0.03%), green-lipped mussels (0.025%), chondroitin sulfate (0.023%), brewer ́s yeast (a source of mannan-oligosaccharides, 0.017%), chicory roots (a source of fructo-oligosaccharides, 0.015%), Mojave yucca (0.011%).
Nutritional composition in 1 kg
vitamin A (3a672a) 22,000 I.U., vitamin D3 (3a671) 1,600 I.U., vitamin E (3a700) 550 mg, vitamin C (3a312) 300 mg, taurine (3a370) 1,500 mg, L-carnitine (3a910) 60 mg, choline chloride (3a890) 1,800 mg, niacinamide (3a315) 20 mg, biotin (3a880) 0.7 mg, zinc (3b606) 95 mg, iron (3b106) 80 mg, manganese (3b504) 40 mg, iodine (3b201) 0.75 mg, copper (3b406) 17 mg, selenium (3b810) 0.2 mg. Contains natural antioxidants: tocopherol extracts from vegetable oil (1b306(i)), ascorbyl palmitate (1b304), and rosemary extract.
Analytical constituents in 1 kg
crude protein 28.0%, crude fat 19.0%, moisture 10.0%, crude ash 7.8%, crude fibre 4.5%, calcium 1.3%, phosphorus 0.9%, sodium 0.25%, omega-3 fatty acids 1.5%, omega-6 fatty acids 3.6%, EPA (20:5 n-3) 0.15%, DHA (22:6 n-3) 0.2%.
Metabolic energy
3,800 kcal/kg.
Package
1.4 kg, 4 kg, 11.4 kg
Product code
{{ $root.accountingCode }}100 172076