Carnilove has been formulated with respect for cats' natural dietary needs.
Grain-free formulas rich in wild-origin meats, such as salmon, turkey, duck, pheasant, lamb, reindeer, and wild boar, and containing forest fruits and herbs provide essential proteins, fats, vitamins, and natural antioxidants for perfect physical condition and immune system support.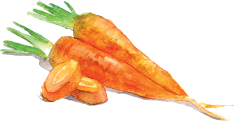 Grain-free * potato-free
Cats are almost exclusively meat eaters. Their anatomy and metabolism have adapted to process food from animal sources. Neither grains nor potatoes are found in the natural feline diet

Forest fruits, vegetables, and herbs – urinary tract health
Fruit, vegetables, and herbs are ideal supplements to the feline diet. They provide essential nutrients, fiber, vitamins, and natural antioxidants. The fruits and herbs are selected with consideration for their health benefits, namely their ability to promote natural immunity and urinary tract health.

Salmon oil rich in Omega-3 fatty acids
Oil from Scottish salmon is a natural part of the Carnilove formulas. It is a rich source of omega-3 unsaturated fatty acids, which support nervous and cardiovascular system health, contribute to skin and hair quality, and have a positive effect on many other bodily functions.
Chicory root and sea algae
Chicory root is a source of fructooligosaccharides, which encourage the growth of beneficial bacteria in the bowel and have a positive effect on the composition of intestinal microfl ora. Sea algae are a natural source of minerals, trace elements, and amino acids. They support proper cellular immunity and stimulate the thyroid gland and metabolism.

Crustacean shells and cartilage extract
The shells of marine crustaceans and cartilage extract are natural sources of chondroprotectives, which are substances that have a positive impact on the condition and mobility of the joints, tendons, and ligament.

Yeast, psyllium, and yucca
A combination of potent natural substances to support digestion, increase the usability of nutrients in the body, and provide necessary insoluble dietary fiber, which facilitates the passage of hairballs and improves overall digestive tract health.

Wild-origin meat
Meat is an essential source of food for cats. The unconventional sources of proteins in Carnilove – salmon, turkey, pheasant, lamb, reindeer, and wild boar – are rich in nutrients, unsaturated fatty acids, and amino acids, all of which nourish the muscles and tissues.