Carnilove True Fresh Cat Turkey
ENRICHED WITH SEA BUCKTHORN, CRANBERRIES, AND GINGER ROOT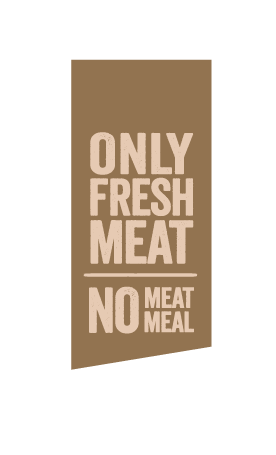 The formula contains a high proportion of fresh turkey from farms and local sources. The unique production method preserves the original properties of the ingredients for an entirely new and delicious sensory experience that satisfies cats' natural instincts. Because the meat is processed fresh, true fresh provides excellent taste, digestibility, and a more natural form of nutrition. Buckwheat, peas, and lentils are natural sources of vegetable protein and the minerals required for healthy metabolism, and they help maintain optimum body weight. -Fresh turkey – dietetic, easily digestible and super tasty protein -Cranberries, sea buckthorn, and blueberries help to keep optimal urinary pH and healthy urinary tract -Dietary fibre and L-carnitine - excellent nutrients for feline weight management Peas and red lentils are excellent sources of dietary fibre and have a low glycaemic index, which means blood sugar increases slowly after a meal.
Similar compositions based on different types of protein allow easy transition from one variety to another to ensure lasting taste appeal.
Natural ingredients are functional and work well together complement each other.
Where to buy
Composition
fresh fish (70%), pea protein, red lentils, buckwheat (4%), natural flavors, chicken fat, salmon oil (1%), sodium chloride, potassium chloride, dried kelp (Ascophyllum nodosum, 0.5%), Lemna protein (0.5%), pea flour, dried sea buckthorn (0.2%), dried ginger root (0.1%), dried blueberries (0.1%), dried rosemary (0.1%), dried cranberries (0.1%), dried thyme (0.1%), brewer´s yeast (a source of mannan-oligosaccharides, 0.015%), chicory roots (a source of fructo-oligosaccharides, 0.015%), Mojave yucca (0.008%).
Nutritional composition in 1 kg
vitamin A (3a672a) 20,000 I.U., vitamin D3 (3a671) 800 I.U., vitamin E (3a700) 600 mg, vitamin C (3a312) 300 mg, taurine (3a370) 2,500 mg, choline chloride (3a890) 3,000 mg, L-carnitine (3a910) 100 mg, biotin (3a880) 2 mg, niacinamide (3a315) 50 mg, iodine (3b201) 4 mg, zinc (3b606) 120 mg, manganese (3b504) 55 mg, copper (3b406) 10 mg, iron (3b106) 45 mg, selenium (3b810) 0.2 mg, L-methionine (3c305) 5,000 mg. Contains EU approved antioxidants: tocopherol extracts from vegetable oil (1b306(i)), ascorbyl palmitate (1b304), and rosemary extract.
Analytical constituents in 1 kg
crude protein 35.0%, crude fat 14.0%, moisture 10.0%, crude ash 9.8%, crude fibre 3.6%, calcium 1.0%, phosphorus 0.8%, sodium 1.3%, magnesium 0.04%, omega-3 fatty acids 0.9%, omega-6 fatty acids 1.1%, EPA (20:5 n-3) 0.2%, DHA (22:6 n-3) 0.25%.
Metabolic energy
3560 kcal/kg.
Package
0.34 kg, 1.8 kg, 4.8 kg
Product code
{{ $root.accountingCode }}100 172161